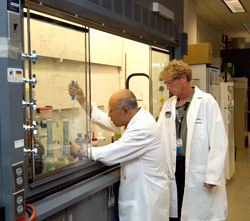 The DEA Office of Diversion Control works very closely with the DEA Office of Forensic Sciences and their network of testing laboratories across the United States. During any major operation or investigation, Diversion sends samples of seized prescription medicines and precursor chemicals to the labs for analysis. DEA Diversion learns a great deal from the lab analysis, helping close a case or identify other individuals for investigation.


DEA Forensic Laboratories Across the Country


What began in 1916 with one "chief chemist" has today evolved into a nationwide network of eight regional accredited laboratories. DEA scientists analyze most drug evidence seized by DEA and other federal, state and local police agencies.



Forensic Chemists Analyze Prescription Drug Samples


Protected by a fume hood and eyewear, forensic chemists perform special tests to analyze drug samples seized by DEA during an operation. The results of those tests will tell DEA a great deal about the drugs seized, including where they came from and how they were made.



DEA Diversion Works with DEA Forensic Sciences


Chemical tests and analysis done in these labs help the Office of Diversion Control identify diverted prescription drugs and precursor chemicals.



Fingerprint Exams and Processes


The DEA has fingerprint/photography programs located in seven regional laboratories throughout the United States. These programs provide fingerprint and photography services to support drug law enforcement operations. Between 2002 and 2006, DEA's 21 fingerprint specialists:
Examined 245,302 fingerprint items
Conducted 873,197 fingerprint comparisons
Processed 619,795 photographic items
Forensic Tools of the Trade


DEA forensic scientists use a mixture of high tech and low tech equipment to do drug sample analysis in support of prescription drug diversion operations.



Liquid Chromatography Machine


High Performance Liquid Chromatography (HPLC) is a commonly used analytical technique in the DEA laboratory system. HPLC can separate components in a liquid medium under high pressure with the use of specialized chromatographic columns. DEA forensic chemists have researched and developed a wide range of HPLC instrumental methods to screen, identify, and determine the purity of controlled substances in a variety of evidentiary materials submitted from DEA Special Agents, Diversion Investigators, and other law enforcement personnel.